Dairy-Free Chocolate Hard Shell Ice Cream Topping
Oh, it has been hot and humid in the Northeast lately, so how about a little ice cream?  This recipe is so easy.  There are ice cream cones you can buy with a hard chocolate shell, but the truth is you can easily make these yourself.
Here's a little tip you might consider if you are making a bunch of these, say for a gaggle of impatient kids, and you can make some or all of this ahead of time.
Just place cupcake liners in a muffin tin (like the photo below) and scoop out ice cream balls and place in cupcake liners.  Once you have prepared your dairy-free ice cream balls, you can place these back in the freezer until you are ready for the chocolate hard shell topping.  The other option is to make everything ahead of time, ice cream cone and chocolate hard shell topping (and sprinkles, etc…).  If this is your plan and you have a way to hold the cones upright in the freezer – great!  If not, a suggestion would be to make the cones, add the chocolate topping and any additional sprinkles, etc… and then place finished cones on their side (gently) on a prepared baking sheet lined with wax paper.  And then, of course, back in the freezer until ready to serve.
I used a spoon to ladle the chocolate topping over the ice cream cones. The chocolate topping hardens rather quickly so if you are adding sprinkles, chopped nuts or any other topping, you have to do it quickly.  As soon as the chocolate topping goes on, sprinkle your topping of choice immediately.  It is best if they can go back in the freezer for a few minutes to harden further prior to serving.  Or you can make and eat right away depending on the "melt" factor of your ice cream.
Only two ingredients to this Chocolate Hard Shell Ice Cream Topping – you will love it!  You can also just pour this topping on ice cream in a bowl.  There are many options.  Be creative!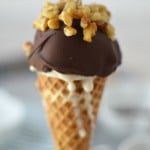 Chocolate Hard Shell Ice Cream Topping
This is a delicious and easy way to get the ice cream store decadence at home.
Course:
Chocolate Ice Cream Topping
Cuisine:
American, Dessert
Ingredients
1

cup

dairy-free chocolate chips

2-3

tablespoons

coconut oil

chopped nuts, mini-chocolate chips
Instructions
Place 3/4 cup of chocolate chips in a microwavable bowl (reserve 1/4 cup chocolate chips). Add coconut oil and microwave in 20-second segments. When chocolate chips have almost melted, remove from microwave oven and add remaining chocolate chips. Stir in all chocolate chips melt and mixture comes together. Let mixture sit for about 5 minutes to come to room temperature.

In the meantime, prepare the ice cream by scooping into muffin cups and placing in a muffin tin. This way all you have to do is plop the ice cream on the cone and spread chocolate topping on the ice cream cone.

Rather than "dip" the cone in the chocolate, it is best to take a spoon or spatula and spread the chocolate shell topping over the top of the cone. Next, add sprinkles or topping of your choice. Once you do this, place the cone back in the freezer to set. These can be placed on a baking sheet with parchment paper. Or you could use an egg carton by poking holes in the top and place cones in the holes. This way you can store upright. They are delicious either way!
Nutrition Facts
Chocolate Hard Shell Ice Cream Topping
Amount Per Serving
Calories 213
Calories from Fat 144
% Daily Value*
Fat 16g25%
Cholesterol 1mg0%
Sodium 3mg0%
Potassium 170mg5%
Carbohydrates 15g5%
Protein 1g2%
Vitamin A 15IU0%
Calcium 19mg2%
Iron 1.9mg11%
* Percent Daily Values are based on a 2000 calorie diet.
Update:  I recently had a reader contact me about chocolate "seizing" when using butter. I have had chocolate seize (clump and become unusable) at times, but not for this recipe.  I did a little research and the bowl and all utensils must be dry – no water at all or the chocolate could seize.  I actually had chocolate seize a few weeks ago for a recipe and I didn't want to throw it out and waste it, so I added some coconut oil and it came back to life (hooray!).  I used the saved chocolate for an impromptu s'mores recipe that was delish and made a fresh batch for the recipe I was working on.  Thank you for all your comments!  They are appreciated!!

What are your favorite ice cream toppings? I would love to know!

Enjoy!
Christine