I have a confession.
Even though I absolutely love this Dairy Free Chocolate Chip Cookie recipe, I am always trying new versions, making tweaks and trying new variations.  I have to admit, it has been tough coming up with anything that comes close to this one.  I am starting to wonder if I ever will.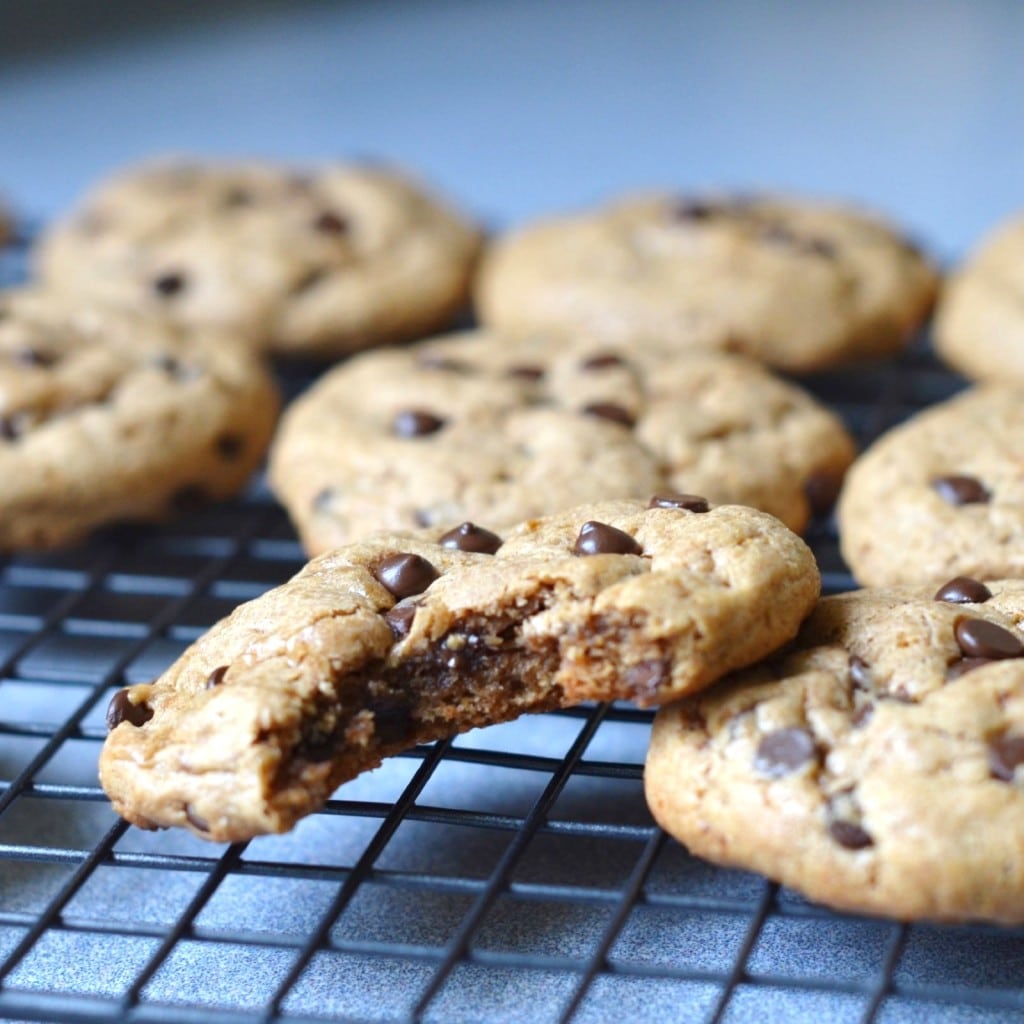 Which is why when it really counts, like guests are coming or I just want that perfect dairy free gluten free chocolate chip cookie, this is the one that comes to mind…and the one I make.  Every time.  Period.
Oh, how I love this recipe.  There are many reasons why it has become a go-to favorite.  It is a delicious butter free chocolate chip cookie recipe, but since you are using creamy almond butter, who misses the butter?  Not me, that's for sure!  Almond Butter has some great nutritional benefits and if you have time, try making your own homemade.  It is super easy.  Here is a tutorial to make homemade almond butter using soaked raw almonds.  Homemade almond butter tastes better than store bought, but use what works best for you.  There may be some days you have the time to make your own.  At other times, it just isn't going to happen.  Life.  It is totally understandable.  You have options.
Another reason to make these paleo chocolate chip cookies your go-to favorite – everything gets mixed in one bowl.  This is a huge reason in my book.  Big sink full of all those dishes.  No, no and no!  Not with this recipe.  You will be washing a bowl and a large spoon or spatula.  And that's about it.  Voila.
Another reason?  Well, what if I tell you this same recipe makes dairy free chocolate chip blondies?  Oh yes, just spread into a 8 x 8 greased pan.  It will take about 25-30 minutes to bake.  Let cool about 10-15 minutes and then cut into squares. Oh yeah!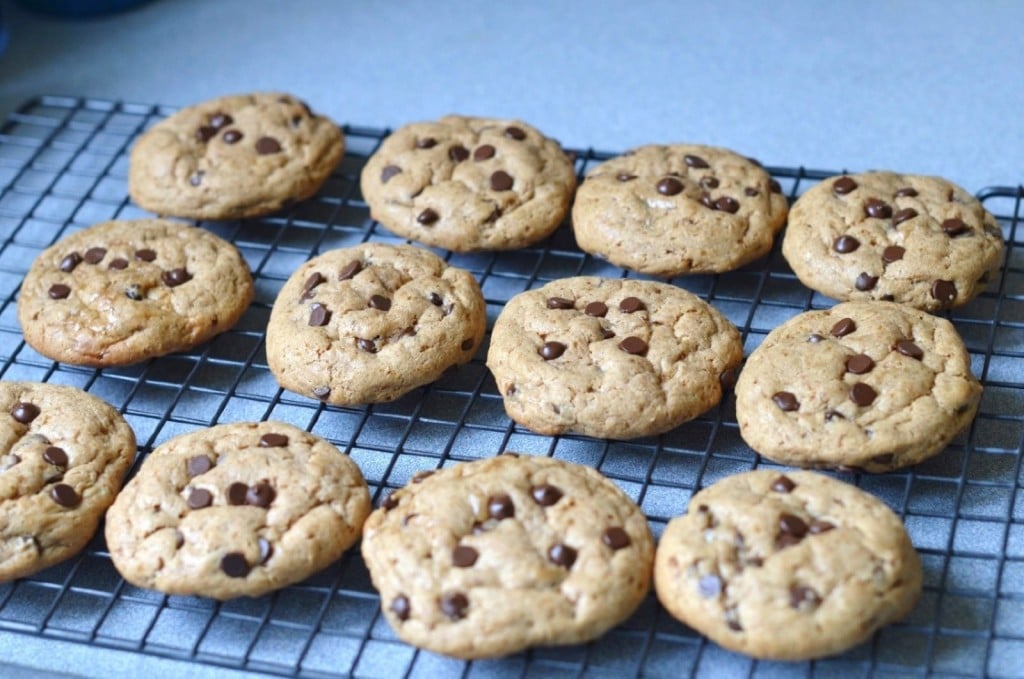 Making Your Dairy Free Chocolate Chip Cookies:
As you can see from the photos, these cookies puff up nicely (thank you baking soda and baking powder!).  When making these cookies, I use either a small ice cream scoop or a tablespoon to measure out the cookie dough drops for the baking sheet.  I reserve about two tablespoons of chocolate chips to sprinkle on top of the cookies right before baking.  Also, you will also want to flatten the cookies slightly by pressing down gently with your hand so they bake flat and round.  Give 'em a nice shape!
Related:
Paleo Chocolate Chip Chunk Cookies
Paleo Vegan Chocolate Chip Cookies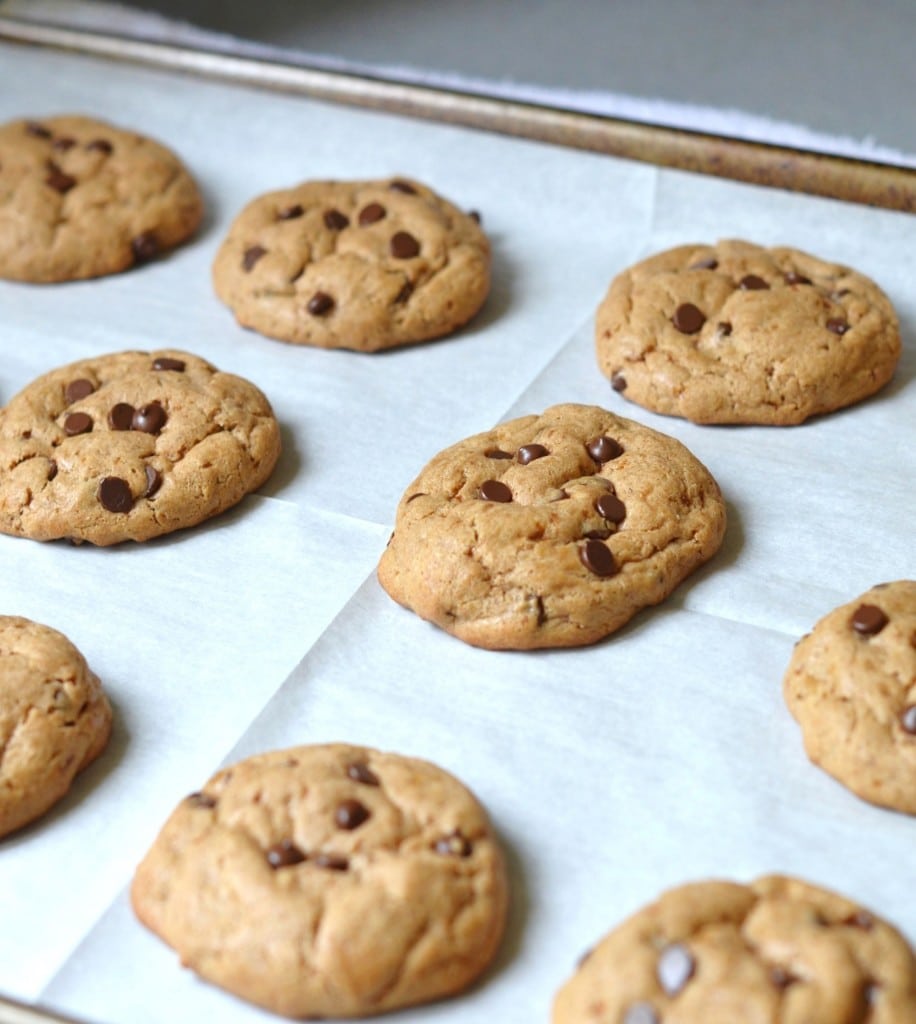 Not too long ago, while on vacation, I made these for everyone in the house, (which happened to be a beach house), including our guests.  Turned out to be the perfect vacation house dessert recipe.
I store these cookies in an air tight container, and if it is really hot, like summer weather, I store in the refrigerator.
My Favorite Almond Butter – this is one of my favorite, easy recipes and can be used for this cookie recipe.
I hope you are enjoying your day!
By the way, when and if I find a better version of these cookies, I will post it.  Because you and I – we love the best cookies! 🙂
What I Used To Make My Delicious Paleo Cookies Recipe:



How to Make Dairy-Free Chocolate Chip Cookies!
An easy, delicious, grain free, gluten free, dairy free chocolate chip cookies recipe. You will be making this recipe over and over and will soon become your favorite go-to. Grain-Free, Gluten-Free, and Dairy-Free!
Course:
Cookie, Cookies, Dessert, Snack
Cuisine:
American, Dessert
Ingredients
1 1/2

cups

almond butter

(I use a 16 ounce jar that happens to be 1 1/2 cups)

2

extra large eggs

(I use organic)

1

teaspoon

vanilla extract

1/2

teaspoon

baking soda

1/2

teaspoon

baking powder

1/2

cup

coconut palm sugar

1

cup

chocolate chips

(Hold back 2 tablespoons to put on top of your cookies prior to baking. It is optional, but they look more scrumptious., I use Enjoy Life brand here)
Instructions
Preheat oven to 350 degrees F.

In a medium sized bowl, whisk the eggs.

Add the almond butter and whisk into the eggs.

Add the remaining ingredients and stir until well combined.

Place one tablespoon sized cookie dough balls on your prepared baking sheet. (A small ice cream scoop is handy for this).

Press down slightly on each cookie so they will bake flat.

Add a few more chips to the tops of each if you choose.

Bake for 8-10 minutes (mine take 8 minutes). Check the bottom to see if browned.

Let cool on wire cooling rack.

Store in air tight container.
Nutrition Facts
How to Make Dairy-Free Chocolate Chip Cookies!
Amount Per Serving
Calories 150
Calories from Fat 90
% Daily Value*
Total Fat 10g 15%
Cholesterol 14mg 5%
Sodium 40mg 2%
Potassium 130mg 4%
Total Carbohydrates 11g 4%
Protein 4g 8%
* Percent Daily Values are based on a 2000 calorie diet.
Easy to Pin It Strip: