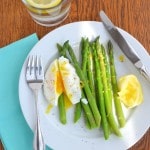 Poached Eggs and Asparagus
A decadent, easy, protein and veggie breakfast to start you day.
One poached egg

about 9 asparagus spears

washed, and woody ends cut off

2

teaspoons

lemon juice

lemon zest from about 1/2 a lemon

salt

pepper
Bring two pans of water to a boil; one for your poached egg and one to blanch your asparagus.

Add one teaspoon of lemon juice to the the pan of water you will be cooking your poached egg or eggs. (If preparing for more than one serving, double all ingredients).

Zest 1/2 a lemon and set aside.

Poach your egg in simmering hot water for 3 minutes.

Place your asparagus spears in the boiling water and blanch for 1-2 minutes (or longer if you would like softer asparagus).

Place the blanched asparagus spears on your plate. You could also place them in a bowl of cold water to stop the cooking process, and then when the egg is ready, place on your plate. I usually just place on the plate straight from the boiling water (cooking pan).

Place the poached egg on top of the asparagus spears on your plate.

Sprinkle egg and asparagus with 1 teaspoon lemon juice, lemon zest, liberally with salt and pepper.

Optional: if you are dairy tolerant, you could also add some shaved or shredded parmesan cheese to top of asparagus.

Enjoy!
Nutrition Facts
Poached Eggs and Asparagus
Amount Per Serving
Calories 5
% Daily Value*
Cholesterol 3mg1%
Sodium 3mg0%
Carbohydrates 1g0%
Vitamin A 70IU1%
Vitamin C 5.2mg6%
Iron 0.2mg1%
* Percent Daily Values are based on a 2000 calorie diet.