Looking for a healthy green smoothie that's crazy delicious also? Whip up this super simple anti-inflammatory smoothie for breakfast, snack or anytime. You'll love the fresh turmeric, ginger, and tips about these amazing ingredients!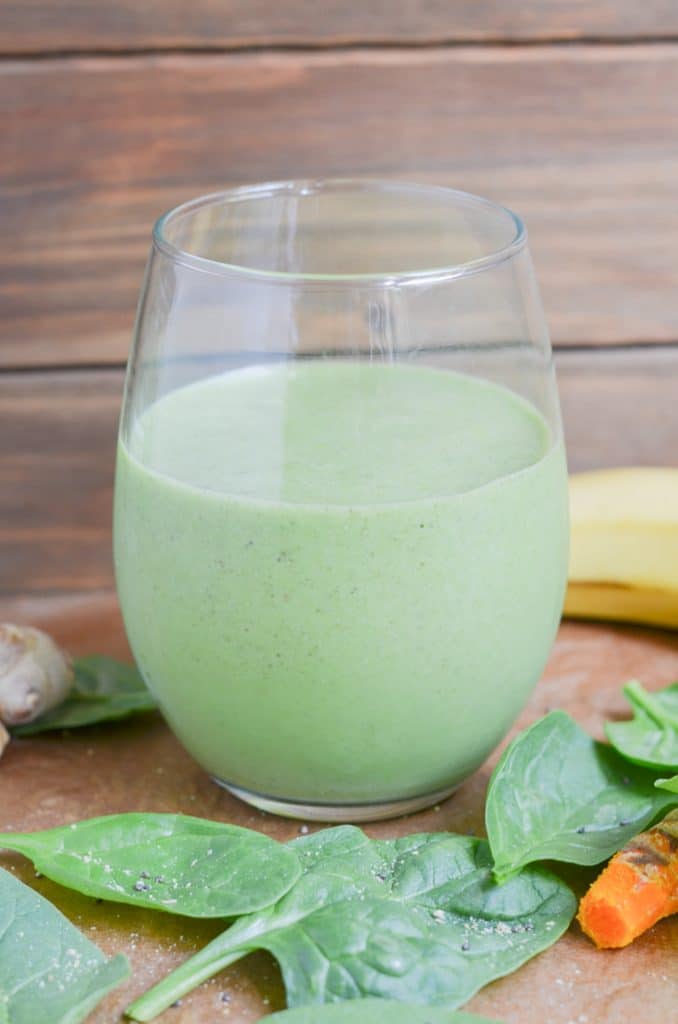 The truth is I have several green smoothies that I really love and make, but this one is a true favorite and has the extra element of turmeric and ginger which are reported to have great anti-inflammatory properties.
How To Make This Anti-Inflammatory Smoothie: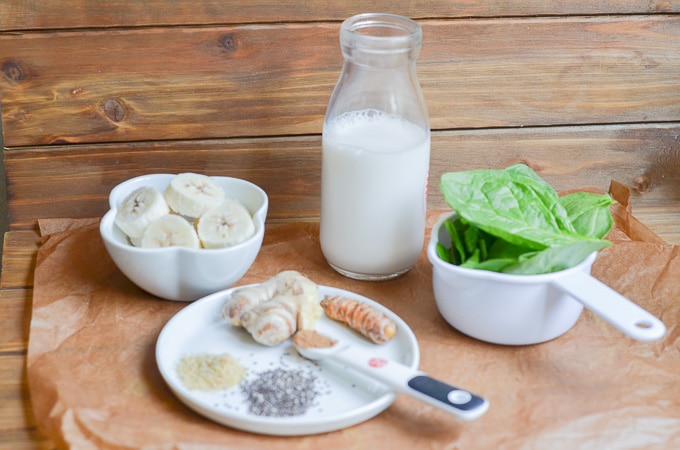 1. Gather your ingredients. Grind the flaxseed, measure all the other ingredients.
See below the piece of fresh ginger and fresh turmeric. Peel the skin off both using a knife or spoon showing the flesh inside. The turmeric is the bright orange and the ginger more of a light yellow. Snip off a small piece for this anti-inflammatory smoothie. *For storage tips and more, see further down this post.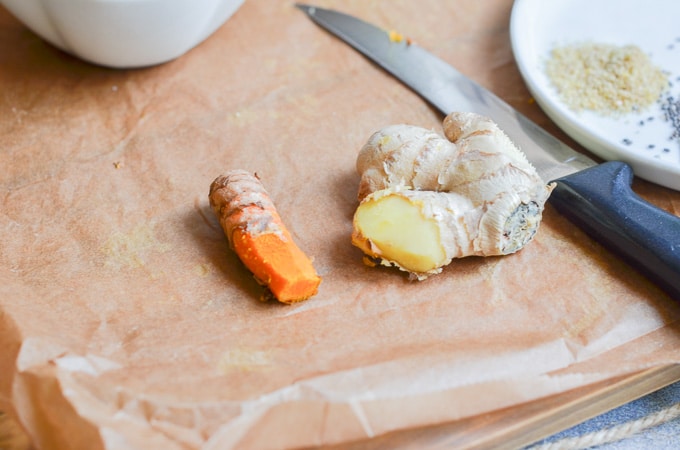 The plate below shows the ground flaxseed, chia seeds, ground cinnamon, small piece of turmeric and a small piece of ginger.

2. Place all ingredients into a blender and blend for about one minute until all ingredients are combined. Having a quality, efficient, accessible blender makes all the difference in keeping true to your smoothie habits. Mine in on my counter.

3. Pour into a glass and enjoy!

PRO TIPS For Your Turmeric Banana Smoothie:
Frozen Smoothie Packs:
Although this smoothie is fairly easy to throw together in minutes, why not make it even faster by having all the ingredients ready in packets.
Peel the ginger, turmeric, and banana.
Slice the banana in pieces.
Measure out the ingredients for this anti-inflammatory smoothie (with the exception of the milk, which you will add when making the smoothie) and add to resealable plastic baggies.
Place in the freezer and store up to a month.
When ready to make the smoothie, simply add the ingredients to a blender, add dairy-free milk and blend until smooth. Consume immediately.
Tip: You can use fresh or frozen spinach with these make-ahead smoothie packets. If using frozen, use 1/2 cup spinach as the volume shrinks in the frozen version.
Benefits of Ginger and Turmeric:
Additionally, this turmeric green smoothie has flax and chia seeds which contain omega 3 fatty acids. Omega 3 fatty acids are considered to have wonderful anti-inflammatory benefits as well.
Best Storage For Ginger and Turmeric:
I store my fresh turmeric and ginger by wrapping each in a paper towel, then placing them in a sealed plastic bag and storing it in the fridge for up to a week. It is easy to tell the difference between the two because turmeric has a very bright orange flesh.
Freeze both ginger and turmeric for future use. I peel the turmeric and ginger completely, then cut into small pieces (perfect smoothie size) and store in a resealable plastic bag in the freezer. This provides easy access for many recipes, including smoothies.
What Would Be A Good Drink For Inflammation?
Anti-Inflammatory Breakfasts:
Anti-Inflammatory Smoothie Recipes:
The Ultimate Dairy-Free Smoothies You Need In Your Life!
The BEST Spinach Apple Smoothie
Products used in this recipe: Golden Flax Seeds, Chia Seeds, Cinnamon.
My favorite supplement – Thorne Meriva Curcumin. I have been using this for several years as recommended by my physician. As with any supplements, check with your healthcare provider before taking any supplements.
★Did you make this recipe? Please give it a star rating below!★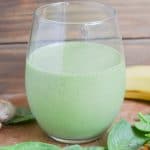 The BEST Anti-Inflammatory Smoothie!
This anti-inflammatory smoothie is great for an anti-inflammatory breakfast, snack, after a workout.  I even have this as a meal replacement during those hectic busy days! Add this to your anti-inflammatory recipes!
Cuisine:
American, Breakfast
Ingredients
1

cup

unsweetened almond milk

1

frozen banana, sliced

1/4

inch

piece of fresh ginger

(peeled and sliced)

1/4

inch

piece of fresh turmeric

(peeled and sliced)

1/4

teaspoon

ground cinnamon

1/2

teaspoon

chia seeds

1/2

teaspoon

flax seeds

1

cup

fresh baby spinach
Instructions
Place all ingredients in the blender and blend for several minutes until very smooth. Pour into a glass and drink up. Enjoy!
Recipe Notes
PRO TIPS For Your Turmeric Banana Smoothie:
Use a great blender
Use the best quality ingredients available.
Use organic frozen fruit when possible.
Use fresh or frozen spinach
Slice the banana and place in freezer in advance so it will be sufficiently frozen when needed.
If a frozen banana is not available, use a few ice cubes instead.
In a pinch, ground turmeric and ground ginger may be used (just a small pinch).
Use the tips mentioned below for storing ginger and turmeric to avoid waste.
You may substitute ground turmeric and ground ginger in this recipe.  Add to taste - try 1/4-1/2 teaspoon.
Nutrition Facts
The BEST Anti-Inflammatory Smoothie!
Amount Per Serving
Calories 167
Calories from Fat 36
% Daily Value*
Fat 4g6%
Sodium 350mg15%
Potassium 589mg17%
Carbohydrates 31g10%
Protein 4g8%
Vitamin A 2890IU58%
Vitamin C 18.7mg23%
Calcium 342mg34%
Iron 1.1mg6%
* Percent Daily Values are based on a 2000 calorie diet.
Update Notes: This post was originally published on September 11, 2015, but was republished with an updated recipe, new photos, step by step instructions and photos, success tips and a video in October 2018.
Thank you for using my affiliate links, which at no extra cost to you, provides me with a small commission that helps with the running of this site. I look forward to creating and posting many more delicious recipes for you.